Table of Contents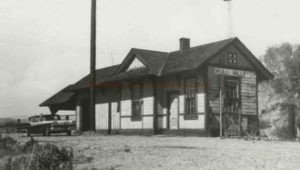 People often ask about how Skull Valley got its name. There are several different stories, but we stick to the one detailed by Will C. Barnes in his book Arizona Place Names.
In March of 1864, a company of the First California Volunteers, led by Captain Hargraves, was escorting Coles Bashford to Tucson. While passing through what is now Skull Valley, they found piles of skulls, which were left behind after a battle between Apache and Maricopa tribes.
The story is that the Apaches stole livestock from the Pima villages and fled north, but were caught by the Maricopas here.
If you would like to know more about Skull Valley history, visit our museum on any Sunday afternoon between 2:00 and 4:00 PM from Memorial Day until Labor Day weekend.
We have an Atchison, Topeka, and Santa Fe railroad Skull Valley Depot that dates to 1898, and a 1925 railroad section house filled with artifacts from railroads, mining, ranching, and farming, some dated as far back as the 1800s.
Admission is only $2 for persons 16 and older, and is free for children and for Historical Society members. The museum is located at 3150 Old Skull Valley Rd. We ask that you leave your pets at home while visiting. For information, call Josie at 480-221-7424.
The Skull Valley Historical Society is dedicated to the preservation of the local history and artifacts pertaining to Skull Valley, Arizona and surrounding area. 
We are also open by appointment for groups desiring a private tour.
Download a pdf version of our 2017 Newsletter.
The Skull Valley Historical Society is a 501-C non-profit organization dedicated to the teaching and preservation of the history of Skull Valley,  Arizona and accepts tax deductible donations.